Hardwood floors bring an elegant, high-end feel to any space. The natural elements and earth tones also add a feeling of warmth, bringing a cozy and inviting element to your room. If you are looking for a way to upgrade your space without completing an entire renovation, the addition of hardwood floors could be the perfect option. You'll love how this simple change can transform your space. 
Along with an elegant, high-end aesthetic, hardwood floors offer the warmth, beauty, and value of wood, which never goes out of style. Hardwood floors are also said to enable a look of spaciousness wherever they are installed.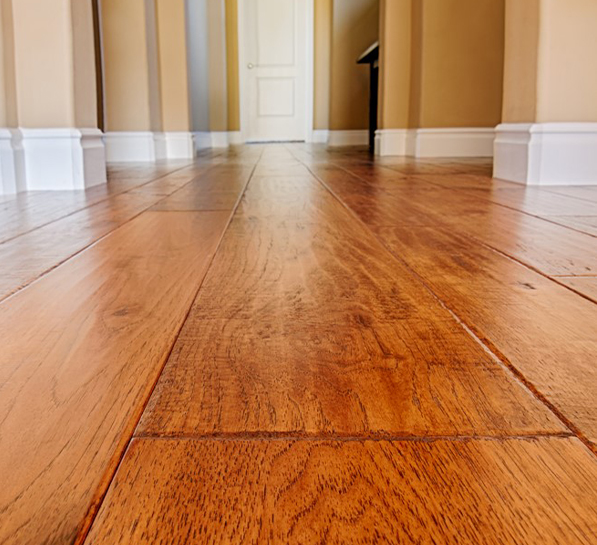 Because hardwood flooring is made from solid wood, it is incredibly durable and will last for many years. Quality hardwood floors are kiln-dried, manufactured, installed, and finished to high standards, and are able to withstand heavy foot traffic. Unlike carpet and other flooring options, hardwood flooring won't fade as easily, looking beautiful for decades and lasting for generations when they are properly cared for. 
Ease of cleaning is an important feature for many homeowners. Hardwood flooring is incredibly easy to clean and requires very little maintenance. Simply remove any dirt or dust from your hardwoods by sweeping, vacuuming, or steam-cleaning it. You also won't have to worry about staining as long as you handle any spill quickly, keeping the flooring dry. Just follow some basic protocols, and you'll have beautiful floors for many years. 
While the initial cost of hardwood flooring may seem expensive, investing in hardwood flooring is actually very cost-effective. Because hardwood floors are incredibly durable and easy to clean, you'll spend a lot less in cleaning fees and repairs over the years. What's more, hardwood floors can last for generations. Again, even though the initial expense may be more than some other options, you'll end up paying less in the long run. In addition, if hardwood floors start to look worn, they can easily be sanded and refinished to bring them new life, which saves you money when compared to the replacement costs of other flooring options.
Because hardwood floors are an incredibly popular feature, adding them to your home can raise your home value should you ever decide to sell. Many homebuyers aren't looking for homes with carpets because they know they'll want to replace them upon moving in, as carpets can hold dirt and other allergens from the previous family. A home with hardwood floors will eliminate this move-in cost for buyers, which is what makes hard-surfaced flooring so popular on the real estate market. 
Choosing to add them is a great long-term investment and can actually become a strong resale feature that brings in more revenue than whatever the initial installation cost of the floors is.
While other flooring options come in and out of style, hardwood floors always look beautiful, regardless of the current trends in home décor. Their timeless quality and superior durability mean they'll look great for many years, which is what makes them such a popular option. With proper care and attention, your new wood floors will be attractive for decades. 
Hardwood floors offers plenty of opportunities for customization, which allows you to match them to any décor. Whether you like light hues that show of the natural wood grain or rich dark stains that make a statement, you'll be sure to find something you'll love. And because you'll have so many options to choose from, it's easy to blend hardwood flooring with numerous styles, paint colors, and furniture. 
Again, there are many colors, styles, stains, and types of wood available, from the locally available hickory, walnut, and cherry hardwoods to the pricier exotic hardwood flooring options like Brazilian Tigerwood and mahogany. In addition, because you can choose between prefinished and unfinished hardwood floors, you can select various levels of shine.
Healthier Indoor Air Quality
The fibers of carpet and grout lines of tile provide a perfect haven for dirt, dust, pet dander, and other allergens. Luckily, the surface of hardwood flooring is completely smooth, making it easy to remove contaminants with a broom or vacuum — and helping the surface respond well to other cleaning methods. This helps you maintain better indoor air quality in your home, providing a healthier environment for your family. 
Hardwoods are an ideal choice of flooring for allergy sufferers as well as many other consumers.