We offer a wide range of hardwood flooring options to bring your vision to life while adhering to your budget. Read on to learn more about your choices.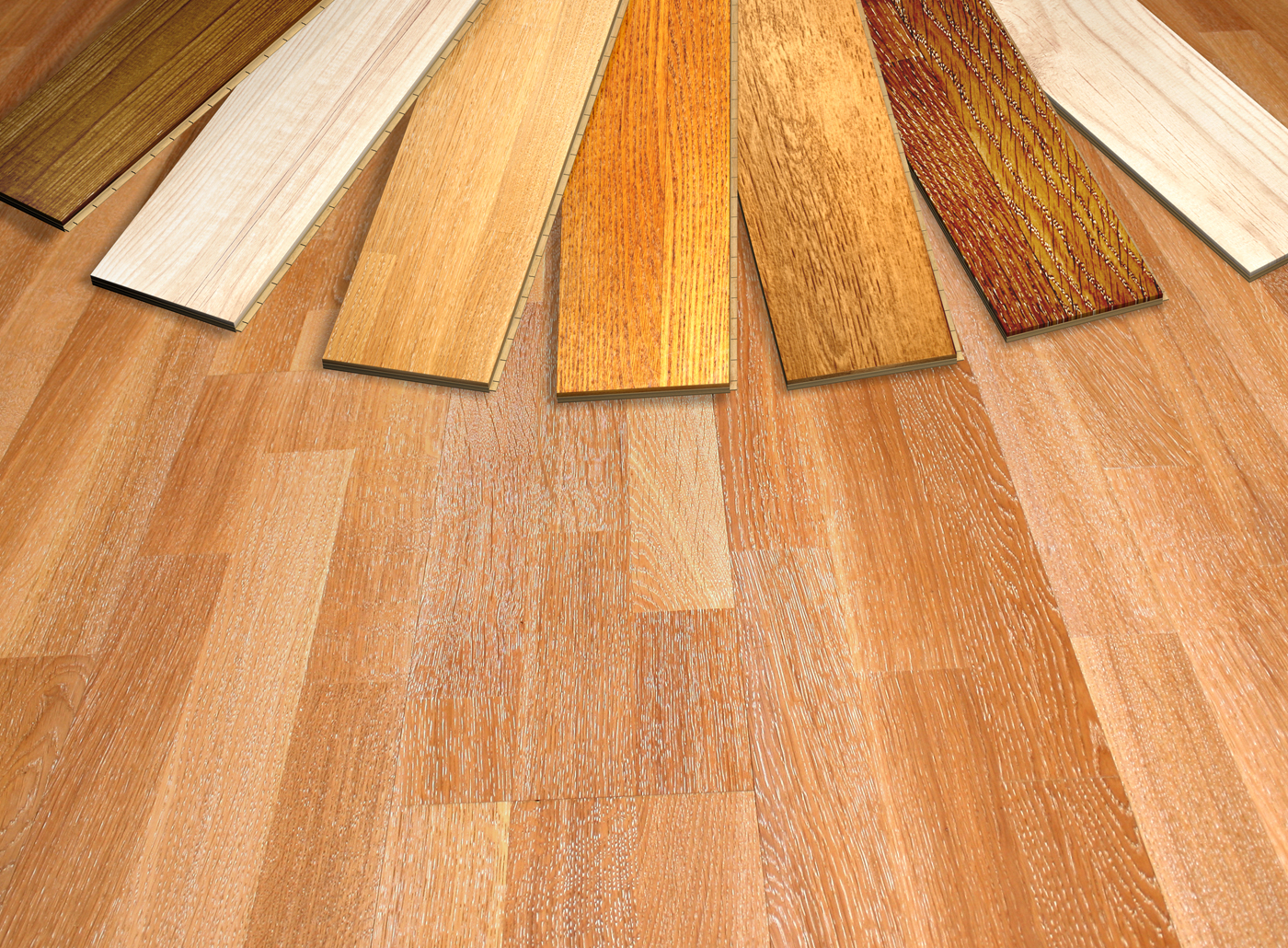 Laminate flooring is a composite material that can be used pretty much anywhere actual hardwoods can – and even places where they cannot, including areas that need a water-resistant surface. In a nutshell, laminate flooring is a composite (think layered), relatively inexpensive flooring material that can stand up to some elements better than can wood-based flooring. Since its inception about 50 years ago, it has been styled to represent various hardwood species styles as well as other more intricate designs.
Laminate is one of the hardiest flooring options available, standing up to wear and tear and foot traffic well, with scratch-resistant qualities that match those of tile.
Vinyl Floors – Tile or Planks
Vinyl flooring – which also known as resilient flooring — is often used as an alternative to ceramic tile, natural stone, or hardwood. The quality of vinyl flooring has been improved dramatically in recent years, making it even more resistant to dents and scratches and even more durable than its predecessors. And since most vinyl options can be installed over existing surfaces, more recently it has also become an even more popular option for homeowners on a budget. Investment level aside, because vinyl flooring is extremely easy to clean and maintain in addition to being waterproof, demand is up for this attractive option that comes in a variety of plank widths and tile sizes, including one with micro-beveled edges that give it an even more realistic look.
When it comes to being able to simply install flooring over existing flooring, consumers often turn to luxury vinyl plank (LVP) – with or without a cushion layer – to embrace a cost-effective alternative. The additional soundproofing and insulation qualities LVP hold also often prompt people to choose LVP over laminate choices. And many users of the cushioned versions also report that walking on this flooring is more comfortable than walking on hardwoods and tiles. LVP flooring is installed by positioning interlocking long narrow strips of the manufactured material, which presents a different process than does working with the squares that comprise laminate flooring alternatives.
Whereas solid hardwood floors are pretty much exactly what the name implies, engineered hardwood floors are composed of layers of both plywood and hardwood.
In its creation, multiple layers of wood are positioned in various directions before a hardwood veneer is added to its finished surface, to prevent the bowing and warping that can happen with solid hardwoods, giving engineered hardwoods higher-performance qualities, especially in areas where moisture can be a factor.
Engineered hardwood may look similar to laminate flooring, but because engineered hardwood has a top layer of solid wood while laminate flooring has an artificially crafted finish layer that serves as a level of protection against wear that is designed to resemble a wood surface, the two flooring choices are actually quite different. What's more, engineered hardwood is often thicker than laminate.